Welcome to Cupertino

Cupertino is a Silicon Valley hub and one of the United States' most affluent and well-educated communities. Extending into the Santa Clara foothills to the west of San Jose, Cupertino is renowned for its outstanding public schools, diverse population, small-town community feel and for being the headquarters of Apple.

Real estate within Cupertino ranges from townhouses and condominiums to mid-century modern Eichler homes and stunning custom-built contemporary properties. Cupertino combines peaceful residential neighborhoods with a walkable downtown and a highly desirable location at the heart of Silicon Valley.
Cupertino's diversity is reflected in its restaurant scene.
Main Street Cupertino
has a large selection of shops and restaurants, including the upscale Japanese-influenced American steakhouse fare at
Alexander's Steakhouse
, gourmet burgers and craft beer at Eureka! and delicious Israeli cuisine at
Oren's Hummus
. Other culinary highlights are
Gochi's
outstanding Japanese-style tapas, along with many other great places to dine on Italian, Thai, Korean, Hawaiian, Brazilian and Chinese cuisine. For groceries, Cupertino has a Whole Foods Market, a Trader Joe's and a number of authentic Asian food markets.
Rancho San Antonio County Park and Open Space Preserve
together provide over 4,000 acres of beautiful scenery at Cupertino's western boundary, with 24 miles of trails for hiking, biking and horseback riding, as well as the working Deer Hollow Farm. Other nearby green spaces include the 1,000-acre
Stevens Creek County Park
, which features trails and an 82-acre boating reservoir. There are also parks located throughout Cupertino. Cupertino Memorial Park has lighted tennis courts, picnic areas, a pond, gazebo, softball field and barbecue area. Enjoy the gorgeous landscape surrounding Cupertino while sipping exceptional wines at
Ridge Vineyards
and
Picchetti Winery
.

Cupertino's outstanding public schools include William Faria Elementary School, Sam H. Lawson Middle School and John F. Kennedy Middle School.
---
Welcome to Santa Clara

Santa Clara is one of Silicon Valley's most vibrant cities, home to the oldest university in California, Intel and other major tech companies, and Levi's Stadium, home field of the NFL's San Francisco 49ers. The city is bordered by Cupertino and Sunnyvale to the west and San Jose in all other directions. It is also within 30 minutes of three international airports and 45 minutes from downtown San Francisco, although it is insulated from the famous San Francisco fog and thus enjoys much warmer summers.
Santa Clara is comprised of many quiet residential neighborhoods with spacious single-family homes, townhouses, stylish modern apartments and condominiums. Properties range from extensively refurbished mid-century modern homes to exquisite contemporary custom-built houses.
There's no shortage of great places to eat and shop within Santa Clara.
Westfield Valley Fair
is an upscale mall that straddles the boundary between Santa Clara and San Jose, just north of San Jose's famous Santana Row. The restaurant scene covers cuisine from around the world, with standouts including delicious fresh seafood at
The Fish Market
, elegant farm-to-table dining at
Parcel 104
within the Santa Clara Marriott Hotel and signature Bay Area brunch at Sara's Kitchen. Dine on outstanding Asian cuisine at
Sushi O Sushi
,
El Camino Mongolian BBQ
and
Jasmine Fine Thai Cuisine
, or sample authentic Mediterranean fare at refined Italian restaurants
Mio Vicino
and
Fiorillo's
or laid-back Greek eatery
Athena Grill
.
California's Great America
theme park entertains visitors with thrilling rides, shows and a summer water park. Explore the city's hi-tech heritage at the
Intel Museum
. The city's vibrant local arts scene is showcased at the
Triton Museum of Art
. Santa Clara is often called "The Mission City" due to the historic
Mission Santa Clara de Asis
, originally constructed in 1777 and later rebuilt following a fire in the 1920s. This beautifully reconstructed building is a popular tourist attraction and an iconic landmark of the city.
---
Welcome to San Jose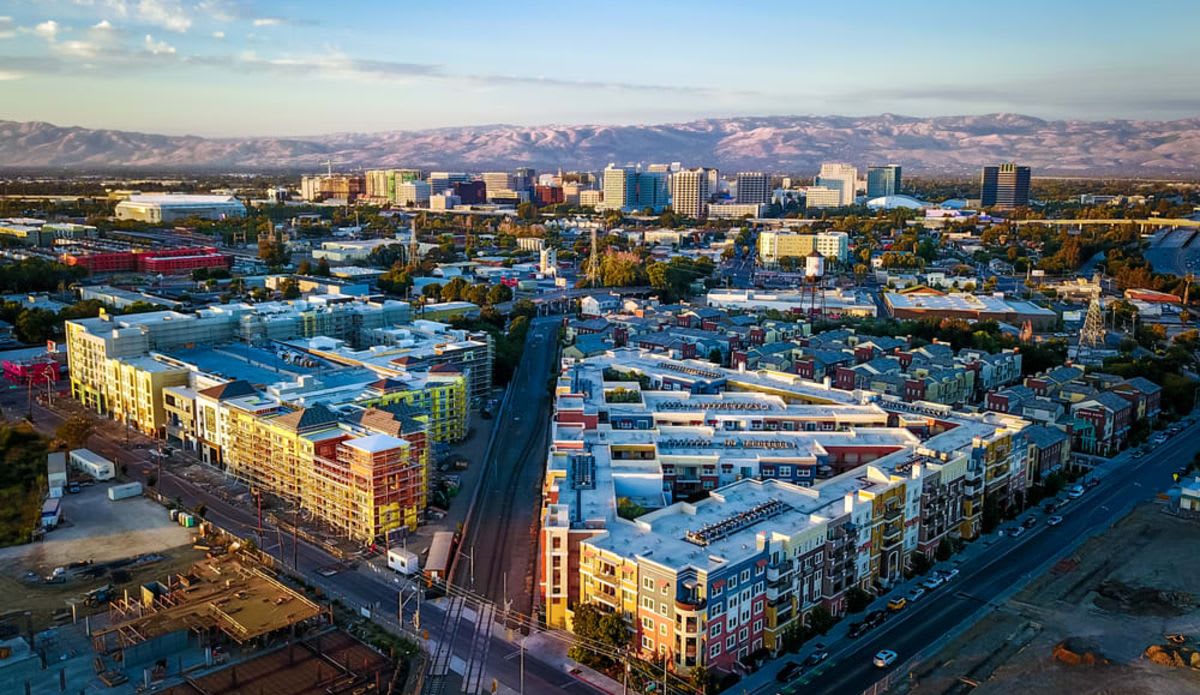 San Jose is the largest city in Northern California and is widely known as the "Capital of Silicon Valley." This hi-tech hub is home to companies such as Cisco, eBay, PayPal, Samsung, Acer, Hewlett Packard and many others, as well as the highest per capita concentration of millionaires and billionaires in the United States. With a pleasant Mediterranean climate, vibrant cultural scene, world-class restaurants and other outstanding amenities, San Jose is a city with a lot to offer.
San Jose has a population of more than a million people, with homes located in dozens of distinct, modern suburban neighborhoods and around its historic downtown core. There is an eclectic mix of stylish contemporary real estate, including lavish Mediterranean-style estates and spacious single-family homes.
SoFa Market
is brimming with delectable international eateries ranging from Hawaiian poke bowls, Japanese umi hand rolls, Vietnamese fusion creations to Neapolitan pizzas. SoFa hosts the South FIRST FRIDAYS Art Walk on the first Friday of each month, where art lovers can experience an ever-changing lineup of pop-up galleries and exhibitions, followed by exquisite cocktails at
The Fountainhead Bar
. Other highlights of San Jose's wide-ranging bar and restaurant scene include French-California fusion fine dining at
La Foret
, great bakeries, such as Middle Eastern-style
Sultan
, outstanding casual bites at
Freshly Baked Eatery
, exceptional coffee at
B2
, and unbeatable local beers and bar eats at
Gravity Public House
.
Santa Row
is an upscale retail, residential and commercial district that has more than 30 restaurants and 50 shops, which offer Silicon Valley's highest concentration of high-end brands.